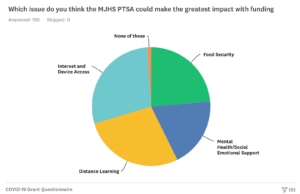 We are super excited to announce that Maynard Jackson High School PTSA is a recipient of a $5,000 PTA COVID-19 Relief Grant to help Maynard H. Jackson High School. We would like to thank all of our students, teachers, and parents who provided responses to our survey for this grant in June. The responses from our school community informed us of what is needed and helped us narrow the focus. It also demonstrated to the National PTA that we work in partnership with our school community.
From the responses to the survey, the grant was written to help our students and staff stay connected (such as internet service, wifi, and any similar needs) during distance learning. We will be working with Principal Danser, Ms. Petty, Ms. Dalton, and other administration staff on the inner workings of this grant!
MJHS was one of only five schools in Georgia to receive a grant this cycle. It was very competitive – only 14% of grant applications were approved! We'd like to thank our VP of Communications, Shannon Sanders for identifying the grant, working with the MJHS PTSA board, and surveying the community in order to complete the application over the summer.