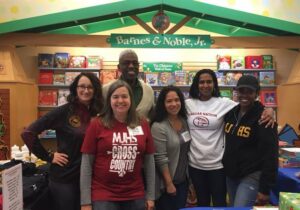 Spread holiday cheer and spirit, by supporting the Maynard Jackson High School Book Fair at the Barnes & Noble in the Edgewood Retail District on Saturday, December 14, 9 a.m. – 11 p.m. All purchases on this day benefit the Maynard Jackson High School PTSA, if you mention Maynard Jackson High School at checkout, even in the Café when grabbing a coffee or treat! There is no extra cost to you!
Can't make it to Barnes & Noble on our special shopping day?
Use code 12562880 to shop online at Barnes & Noble beginning on Sunday, December 15 through Saturday, December 21. Share this code with friends and family who can't attend, but want to support Maynard Jackson High School!
The PTSA has a day full of fun, entertainment and community building planned:
Wake Up and Stretch at 9:15 a.m.
Join Narin Hassan from Tend Yoga and Wellness for a free alignment based yoga class that includes a gentle warm up, poses to strengthen and build flexibility in the legs, hips, and shoulders. The class is open to all levels including beginners, and will include meditation. Bring your own mat.
Narin teaches at the Little Yoga Co-op in Grant Park (289 Little Street), a yoga space created by Maynard Jackson moms, Lynn Brandli (Yoga Poses Daily) and Narin (Tend Yoga and Wellness), in 2018. 
Local Author Readings and Signings at 2:00 p.m.
Local authors Roshani Chokshi, Wayne Drash, Jessica Handler and Danielle Hanson are currently scheduled  authors for readings and book signings.
Roshani Chokshi is the author of middle grade and young adult readers that transport audiences to fantastical worlds heavily inspired by world mythology and folklore. Her work has been nominated for the Locus and Nebula awards, and has frequently appeared on Best of The Year lists from Barnes and Noble, Buzzfeed and more. Her New York Times bestselling series includes The Star-Touched Queen duology, The Gilded Wolves, and Aru Shah and The End of Time, which was recently optioned for film by Paramount Pictures.
Wayne Drash, author of On These Courts, is a former staff writer and senior producer for

CNN.com

. He was named one of the best online writers in America by the National Headliner Awards in 2012.
Jessica Handler author of the nonfiction books Braving the Fire: A Guide to Writing About Grief and Invisible Sisters: A Memoir." Her newest book The Magnetic Girl has been named indie Next selection, Wall Street Journal Spring 19 pick, Bitter Southerner Summer 19 pick, SIBA Okra pick and Georgia Center for the Book's 2019 "Books All Georgians Should Read."
Danielle Hanson is a Grant Park author of Fraying Edge of Sky and Ambushing Water. Her work has appeared in over 75 journals, and was Finalist for 2018 Georgia Author of the Year Award for Poetry!
Authors will read excerpts from their published works as well as participating in Q&A and book signing. We hope to feature select Maynard Jackson High School's young writers as well.
Are You Smarter Than a Hogwarts Student? at 4:00 p.m.
Gryffindor or Ravenclaw? It doesn't matter as we'll start the Sorting Ceremony at 4 p.m. Join in our Harry Potter Team Trivia Hour! It's open to all ages. Prizes will be awarded to the team with the best Harry Potter-inspired costume as well as game winners!
Full Schedule of Events and Performances (more to come)
9:15 – 10:15 a.m.  Yoga with Narin
10:30 a.m.  Maynard Jackson High School Chorus
11:00 a.m.   Storytime/Make and Take Crafts
11:30 a.m.   Atlanta Neighborhood Charter School Chorus
12:00 p.m.   King Middle School Dance preview of Alice in Wonderland
12:30 p.m.   Maynard Jackson High School Orchestra
1:00 p.m.   Benteen Elementary Honors Chorus
1:30 p.m.   Break from Events
2:00 – 3:00 p.m.   Authors: Roshani Chokshi, Wayne Drash, Jessica Handler and Danielle Hanson
4:00 p.m.   Are You Smarter Than a Hogwarts student? Harry Potter Trivia Hour
Other Highlights
Spirit Wear: Show your Maynard Jackson High School spirit by purchasing MJHS t-shirts, hoodies, etc. These items make for great stocking stuffers and gifts for neighbors, current students and future Jaguar Scholars.

Teacher Wish Lists: Spread your holiday cheer by purchasing an item off of the MJHS Teacher's "Wish List!" Our MJHS teachers have compiled items that they would love to have for students in the classroom, but do not have the budget for themselves.

Free Gift Wrapping: Have members of various MJHS sports teams wrap your Barnes & Noble purchases. Sponsored by the MJHS Athletic Boosters. Tips are appreciated and will be distributed equally among the sports teams participating.

Sunshine Closet Donations: Contribute an item to the Sunshine Closet which helps connect disadvantaged MJHS students with clothing, food, personal hygiene supplies, as well as gift cards that will be given to students for use during the holidays when school is closed and homeless shelters are not open during the day.
Thanks to this fundraiser with Barnes & Noble, MJHS' teachers receive many needed items that can be used throughout the year and the MJHS PTSA receives funds that directly benefit MJHS students and staff. The money raised through this partnership helps fund enrichment grants, books and other supplies for the classrooms, the MJHS Sunshine Closet holiday and other needs, teacher appreciation week, and more.
Be sure to check here for continued updates to the Book Fair performances, details or to pre-order a cheesecake for your holiday entertaining! You can also find more information by following us on Facebook or Instagram @mjjptsa.