MJHS PTSA 2019-20 Officer Nominations Announcement
The Maynard H. Jackson High School PTSA Nominating Committee is now accepting nominations for officers for the 2019-20 school year. If you would like to nominate yourself or someone else, please email a completed PTSA Leadership Nomination form to mjjptsanominating@gmail.com. The MJHS 2019-20 Leadership Nomination Form can be found on the PTSA website: http://www.mjhsptsa.org/.
All leadership nominations are due by end of day on Friday, March 22, 2019. Please note that you must be a member of the 2018-19 MJHS PTSA to be elected as an officer for 2019-20. Interested parties can still join the PTSA through the organization's website.
The slate of officers will be presented by the Nominating Committee via PTSA and MJHS school communications on or before Friday, April 5 and voted on at the PTSA meeting held on Monday, April 15.
PTSA officers include: President, Vice President, Secretary, Treasurer, VP of Communications, VP of Fundraising and VP of Hospitality. Duties of Officers can be found on the MJHS PTSA website. In addition, in May, PTSA officers will be seeking 2019-20 chairs for committees including membership, fundraising, parent involvement and audit committee. Three of these committee chairs will also be part of the PTSA board for 2019-20.
Please direct all questions regarding nominations to the email for the nominating committee: mjjptsanominating@gmail.com.  This email will forward to all members of the nominating committee: Shalanda Ashmore, Chris Harbaugh, Andrea Knight and alternates Adrienne Goolsby and Tasha Greer.
MJHS PTSA Officers 2019-20
Executive Board Officers
President:
o Assign PTA training
o Determine PTSA calendar
o Sign off on check requests
o Sign off on deposits
o Manage overall objectives and strategies of PTSA (including fundraising objectives, community building
events, educational events, etc.)
o Act as liaison between parents and principal/staff
o Recruit PTSA Committee Chairs
o Create agenda and facilitate monthly PTSA meetings and monthly PTSA board meetings
o Write a periodic PTSA News bulletin (Roar)
o Create a mailing for all MJHS parents in August for inclusion in back-to-school packet
o Collaborate with Principal to create annual school calendar
o Collaborate with Treasurer to create annual PTSA budget
o Speak at Back to School Night and other events
Vice President
Works as the primary aide to the president
Helps lead a PTA towards specific goals consistent with PTA purposes and policies
Performs president's duties in his or her absence
Carries out other duties outlined in unit bylaws and standing rules or as assigned
Secretary
o Take meeting notes/minutes at PTSA meetings
o Make copies of minutes from the last general meeting for distribution (and approval) for general
meetings
o Submit approved minutes for inclusion on website and posting on PTSA bulletin board.
o Attend board and executive committee meetings, participate in discussions and decision-making, take minutes for preparation and distribution to the other officers.
o Prepare the sign-in sheet, set out name tags, and arrange the room for the general meetings.
o Forward required documentation to GA PTSA main office (submit Executive Board slate)
o Maintain a complete file of all approved minutes, agendas, and materials distributed at any official PTSA meeting.
o Manage/oversee the Nominating Committee process. Recruit and form a nominating committee, and remain available to assist them at their request.
o Check PTSA inbox at MJHS once a week
Treasurer
o Collaborate with President to generate annual PTSA budget
o Prepare annual audit and tax return
o Pay bills and reimbursements as required
o Oversee ongoing finance, ensure adherence to approved PTSA budget
Membership/Volunteers
o Coordinate membership drive: develop letter for PTSA Roar newsletter, create membership forms for distribution,
collect forms & record memberships in database, record online memberships in database.
o Collect, count, and deposit money with Treasurer.
o Develop Roar notices and prepare membership reports for PTSA Meetings.
o Survey members for volunteer opportunities.
VP of Fundraising
o Assist with recruitment of and provide support to committee chairs for key fund-raising events.
o Coordinate Community Sponsorships with event chair and volunteers
o Advertise ongoing fundraising campaigns, such as MJHS Spirit Store
o Monitor results of fund-raisers; align fundraising objectives and strategies with MJHS's budgetary needs and research other fundraising opportunities as required
o Recruit and oversea PTSA Mini Grant program(s)
o Research grant opportunities that align with school needs as determined by PTSA
o Apply for grants, monitor applications
o Meet with Principal and PTSA President as needed to determine funding needs.
VP of Communications
o Maintain PTSA Roar Newsletter, establish distribution schedule
o Coordinate info Principal and with Staff Parent Liaison for school-wide communication needs
o Maintain MJHS's web presence by updating PTSA web information and aligning with MJHS School
websites.
o Maintain all MJHS PTSA social media accounts: facebook, Twitter, Instagram
VP of Hospitality
o Host several events during the school year that promote community building, membership support, teacher appreciation, school outreach, etc. These can include Back To School event, Staff Appreciation events, Principal's Coffees, Membership Holiday events.
o Solicit contributions (food/paper goods/decor) from membership community and/or business community for events as  needed
Maynard Jackson High School PTSA 2019-20 Leadership Nomination Form
I wish to have the Nominating Committee consider me (or the following person) for the office of:
President
Vice President
Vice-President of Communications
Vice-President of Fundraising
Vice-President of Hospitality
Secretary
Treasurer
Name:
Address:
Telephone:  (H)                                                             (Mobile/Work)
Email:
Describe this person's qualifications for office and fitness to serve.  Please attach any other information about this candidate (limit to one page) that may be helpful in assisting the Nominating Committee.
Submitted by:
Email to: mjjptsanominating@gmail.com
DEADLINE for submitting this form: March 22, 2019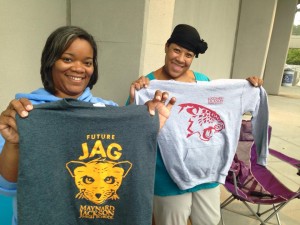 Want to help out?  See below for volunteer opportunities:                                              
Events Coming Soon 
See Committee List Below    
 
Executive Committees (chaired by Officers)
Membership
This committee is responsible for soliciting, updating, and maintaining memberships. Tasks include establishing an electronic database of members, calculating membership numbers, preparing reports for PTSA meetings and surveying members for volunteer opportunities.
Fundraising
This committee is responsible for overall fundraisers to benefit the MJHS PTSA. Activities will also include assisting other committees with fundraising as needed.
Communications
This committee is responsible for the creation of a yearly PTSA calendar and the updating and maintenance of communication systems – including Twitter, Facebook, InstaGram, and a  newsletter.
Hospitality
This committee is responsible for providing hosting for school-wide events such as back-to-school night, Cluster meetings, December holiday program, etc.
Standing Committees (chaired by PTSA Members)
Teacher Appreciation
This committee plans and executes three teacher appreciation events during the year (welcome breakfast during pre-planning, Holiday event, Teacher Appreciation Week in the spring), and coordinates with the Hospitality Committee.
Freshmen
This committee is chaired by a Freshman parent and will be responsible for planning a welcome reception for Freshmen and their parents just prior to the start of school. Other duties include planning Freshman events throughout the year.
Sophomores
This committee is chaired by a Sophomore parent and will be responsible for planning, executing, and hosting the Sadie Hawkins dance (a PTSA Fundraiser done in conjunction with SGA) every March. Other duties will include planning Sophomore events throughout the year.
Juniors
This committee is chaired by a Junior parent and will be responsible for assisting faculty and SGA in planning, executing, and hosting the Prom. Other duties will include planning Junior events throughout the year, including a fall parent workshop on the SAT.
Seniors
This committee is chaired by a Senior parent and will be responsible for assisting faculty and SGA in planning and executing Senior Week and Graduation.