Join the MJHS PTSA Today!
Your PTSA Membership Dollars Support Our Maynard Jackson Students by Providing:
Classroom Supplies & Enrichments
Emergency Needs
Facilities Improvements
Cultural & Academic Programming
School Safety
It's Easy to Join NOW Online! Don't wait until Open House on July 30.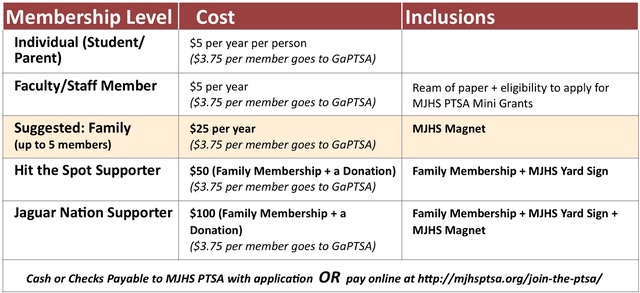 Click here to complete the MJHS PTSA Membership form online.
(for parents, families, faculty, students and community supporters)
Pay online now (below) or return to this page to pay after fill out your membership application.
Join and pay by Friday, July 27, 2018 and you can pick up your membership card, magnet and/or yard sign during Open House on July 30, 2-4pm at the PTSA Membership table.
Help us reach a NEW PTSA Membership Status at Maynard Jackson High School!
          **Pacesetter's Award – 300-399 members by August 31, 2018.**
          Early Bird Award – 200 members by September 28, 2018.
Please click below to
pay for your
MJJ PTSA Membership
Your contribution will make a big difference!